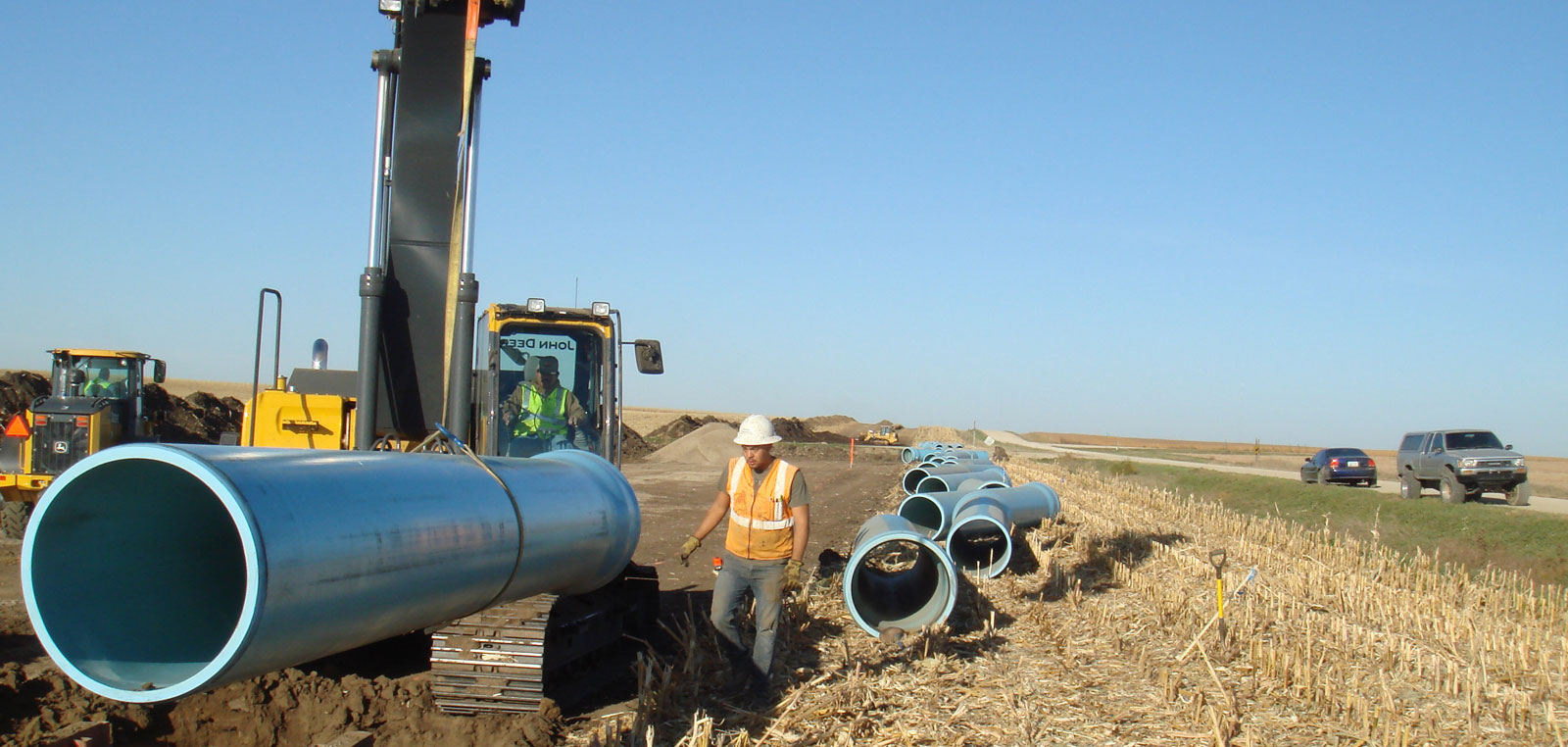 PPI recognizes top pipe projects
From a 7.5-mile forced main in Florida to the longest pedestrian bridge in Utah to a small soccer field in Haiti, plastic pipe and tubing help convey water, people, rain and other resources in some innovative ways.
Those three infrastructure projects were among those recognized in 2021 by the Plastics Pipe Institute, an Irving, Texas-based trade association representing the plastic pipe sector.
For more than 10 years, PPI members have selected a Project of the Year in the divisions of building and construction, drainage, energy piping systems, municipal/industrial and power and communications.
This year, the biggest of the winning projects is a $62 million redundant force main that moves wastewater from a Florida lift station to the G.T. Lohmeyer Wastewater Treatment Plant, which serves the Fort Lauderdale area.
The municipal project creates redundancy with a 50-year-old sewer main plagued by breaks and in need of repair. Fort Lauderdale officials plan to use the new force main while they upgrade the aged wastewater transmission line with the goal of later having both to create a redundant and reliable system.
The new force main uses 54-inch high density polyethylene pipe from Los Angeles-based JM Eagle and Georgetown, S.C.-based Agru America.
With estimated sales of $3.14 billion, JM Eagle is the No. 1 pipe, profile and tubing extruder in North America, according to Plastics News' latest ranking.
"HDPE pipe was chosen because it is more resistant to corrosion, has fewer mechanical joints and is more flexible than traditional ductile iron sewer pipe, so it will reduce maintenance and improve the infrastructure's resilience to rising groundwater tables and sea level rise," according to a news release on the city of Fort Lauderdale website.
Also, HDPE pipe can be installed with a trenchless method called underground directional drilling, which causes less disruption to streets, traffic, residents and neighborhoods, Fort Lauderdale officials noted.
In another infrastructure project, Utah Valley University put out a high-tech welcome mat when it built the state's largest pedestrian bridge — it spans more than three football fields — with heated concrete, 125 lights and 18 security cameras. The $30.7 million, 970-foot-long covered bridge, which crosses over Interstate 15 to connect UVU's main and west campuses in Orem, contains a snow melting system that uses plastic tubing and pipes produced by Leesburg, Va.-based Rehau and Apple Valley, Minn.-based Uponor Inc.
The project incorporates about 35,000 square feet of Rehau's Raupex O2 Barrier cross-linked polyethylene (PEX) tubing for the snow melting loops, which are supplied with heated antifreeze by 1,900 feet of Uponor pipe made from polypropylene, random copolymer, with modified crystallinity and temperature resistance (PP-RCT).
With $397 million in estimated sales, Uponor is the 13th largest pipe, profile and tubing extruder in North America, according to Plastics News' latest ranking.
Rehau ranks in a tie for 28th with $185 million in estimated sales.
The companies' products are in a bridge that gives 5,000 students and counting a faster and safer way to get to campus, according to UVU President Astrid Tuminez.
"As Utah Valley University grows on the west side of I-15 and residential developments expand, that number could reach 20,000. Regardless of the reason for coming to our campus, this bridge will provide another welcome path to our front door," Tuminez said in a news release.
The center has a sports facility with soccer fields, a housing complex, a vocational center and a large community hall. The soccer fields, however, often were closed after rainstorms because of flooding that would take up to a week of dry weather to clear.
To keep the games and players on schedule, HDPE pipes with diameters of 6-36 inches were used to form a drainage system that diverts rainwater from soccer fields.
In another recreational project, this one undertaken by a utility, 13,000 feet of Southwire Co. cable-in-conduit (CIC) was buried by the Napa Hot Air Balloon Co. in California in place of the overhead conductors to address safety concerns at the launch location.
Pacific Gas and Electric was able to dig a trench, install the Carrollton, Ga.-based company's CIC and fill it with little traffic interruption for a nearby winery. And now the utility has a permanent raceway available if any cables need to be replaced or upgraded.
PPI says PG&E is now considering CIC as a solution for other safety and fire mitigation projects as well as grid hardening, which includes actions taken to build strong infrastructure that protects customers from weather-related outages.
Three other projects were recognized by PPI members. They include a Texas military base where 6,000 feet of Asahitec-brand PP-RCT pipe was used for hot and cold potable water, nonpotable and chilled water plus HVAC heating water and HVAC condenser water.
The PP-RCT pipe was selected instead of carbon steel pipe due to its light weight, ease of maneuverability, and faster and safer welding methods that provide several benefits to the installers.
In the division of energy piping systems, PPI members lauded two projects: the Gondor Salt Water Disposal Facility in McKenzie County, N.D., and the Delaware Basin saltwater network buildout in West Texas.
The North Dakota project incorporates HDPE couplings by Victaulic Co. of Easton, Pa. The couplings eliminated challenging fitting-to-fitting connections and could be quickly and easily installed.
The Texas project uses products by Performance Pipe and Dow Inc. for a high-temperature saltwater disposal system. The system helps cut down on truck traffic by instead using more than 88,000 feet of 12-, 18- and 20-inch polyethylene raised temperature (PE-RT) HDPE pipe to transport the saltwater, which is typically between 140-180° F, to the disposal units.
The project uses Performance Pipe's PlatinumStripe 1800 Series piping products, which are manufactured with Dow Intrepid 2499 PE-RT and PE4710.
Plano, Texas-based Performance Pipe ranks in a tie for 11th with estimated sales of $410 million, according to the Plastics News ranking.
Please see the article here from Plastics News: https://www.plasticsnews.com/news/ppi-recognizes-top-pipe-projects