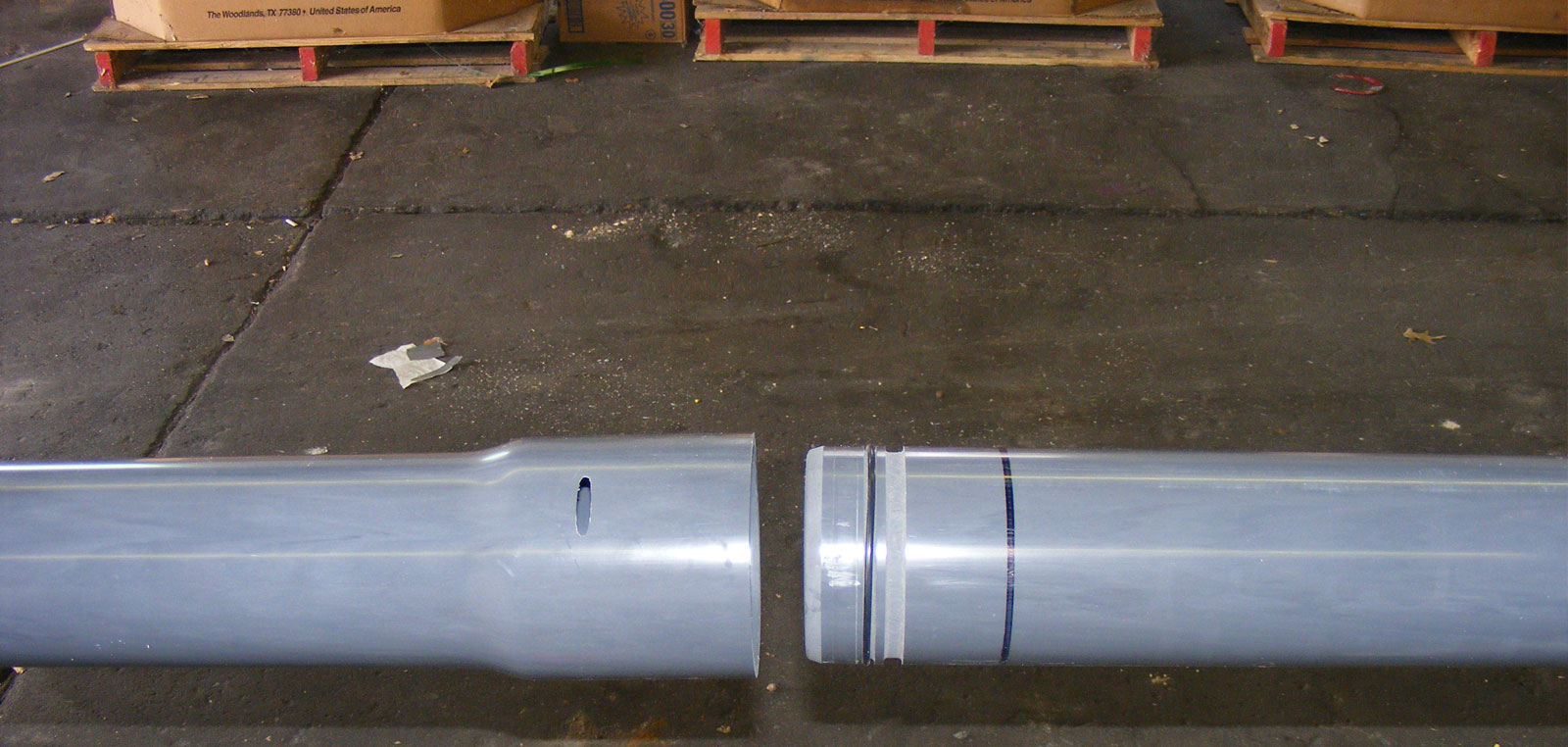 Short Form Installation Guide and Warning
Please view Installation Warning before proceeding.
JM Eagle™ Ring-Tite PVC Pipe
This information is furnished in order to provide a brief review of the installation requirements for JM Eagle™ Ring-Tite PVC pipe. This is not a replacement for the full version JM Eagle™ Installation Guide. Please refer to the complete Installation Guide or contact JM Eagle™ Product Assurance directly.
Check to see that the rubber gasket is properly seated in the bell groove, and that the bell and spigot are clean before assembly.
Apply the approved lubricant to the spigot end of the pipe only, paying particular attention to the bevel. The coating should be equivalent to a brush coat of enamel.
Assemble the joint to the black reference mark only.
If undue resistance to insertion of the spigot is encountered, or the reference mark does not reach the flush position, disassemble the joint and check the position of the rubber gasket.
There is no angular deflection allowed in the pipe joint. Any curvature of the line is attained by bending the body of the pipe – Do Not Bend At The Joint! Exception: Pipe 14" and larger can be installed with an angular deflection at the joint of up to 1.5 degrees.
Prior to backfilling, check to see that the reference mark is flush with the end of the bell.
This form in no way replaces the full version JM Eagle™ Installation Guide. For a full version Installation Guide, contact your Distributor or call JM Eagle™ Product Assurance at (800) 621-4404.
JM Eagle™ Solvent Weld Pipe
Solvent Weld pipe should be assembled in accordance with ASTM D2855 Practice for Making SolventCemented Joints with Poly Vinyl Chloride (PVC) Pipe and Fittings.
JM Eagle™ Perma-Loc Pipe
Perma-Loc should be installed in accordance with JM Eagle™ Publication TR-406B, "Perma-Loc Installation Guide: Sewer & Storm Drain". To obtain a copy of this publication, please contact your Distributor or JM Eagle™ Product Assurance at (800) 621-4404.