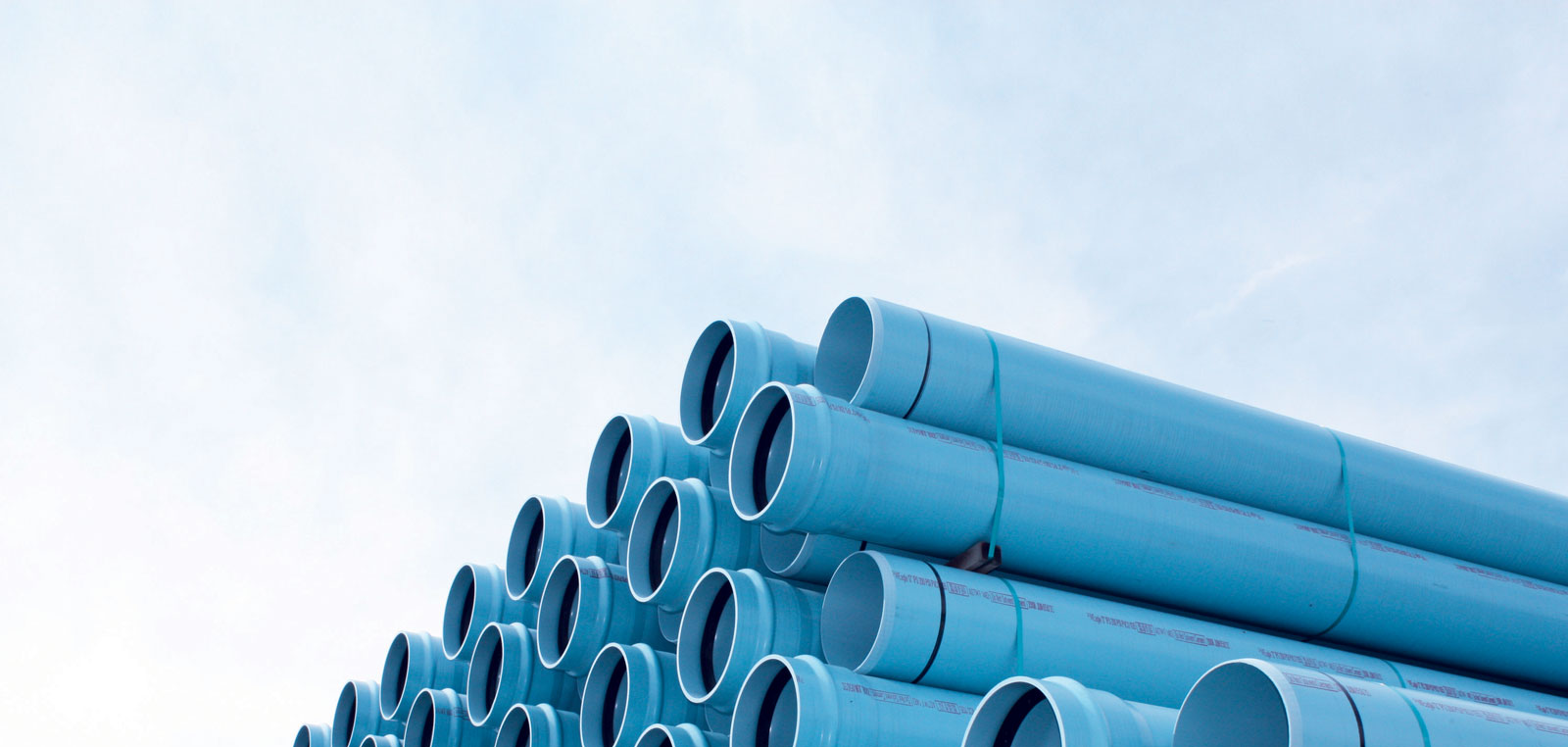 You are here
Ultra Blue PVCO (C909)
Application:
JM Eagle's Ultra Blue PVCO pipe is suitable for use in distribution pipelines of potable water, as well as gravity and/or force main sewer and water reclamation.
Benefits:
Ultra Blue PVCO pipe is the highest-performing, lightest-weight, most cost-effective pressure pipe for potable water and force main systems.
Ultra Blue:
Is molecularly oriented for a wall that is four times stronger than conventional PVC at half the thickness, with a larger interior diameter for improved performance.
Features superior crush-, break- and notch-resistance, greater tapping strength and high pressure toughness.
Maintains performance against tuberculation, corrosion and external galvanic soil conditions without lining wrapping, coating or cathodic protection.
Keeps its smooth interior over long years of service with virtually no loss in carrying capacity, allowing for savings in pumping costs, as well as savings on the size of the pipe required.
Descriptions:
PVCO Distribution C.I.O.D. Pipe
Pressure Class 305 psi,
Size 6" - 8"
Pressure Class 235 psi,
Size 6" - 12"
Pressure Class 165 psi, Size 16"
Gasketed Joints Size 6" - 12" and 16"
PVCO Pressure IPS Pipe
Pressure Rated 200 psi, Size 6" - 12"
Gasketed Joints Size 6" - 12"
Ultra Blue PVCO is a molecularly oriented pipe. Ultra Blue™ combines innovative engineering design and years of experience in PVC pipe manufacturing. The result is a higher performance, lighter weight, more cost effective pressure pipe for potable water and force main systems.
For use in distribution, municipal water systems and other services.
JM Eagle's Ultra Blue™ pipes conform to the AWWA C909 and/or ASTM F1483 specifications, with gaskets meeting ASTM F477 and joints in compliance with ASTM D3139. Long-term hydrostatic pressure tests show Ultra Blue™ has a Hydrostatic Design Basis of 7,100 psi. Conventional PVC pressure pipe has an HDB of 4,000 psi. With equivalent safety factors the wall thickness of Ultra Blue™ can be reduced to approximately half that of conventional PVC pipe and still maintain the same pressure rating and meet the high safety requirements commonly needed by municipal water systems. Pipe is available in Cast Iron O.D.s (CIOD) in 6" - 12" PC 235 psi; 16" PC 165 psi. Pipe is also available in Iron Pipe Size O.D.s (IPS) in 6" - 12" PR 200 psi.